Featured Website News
Benchmark Reviews Has Moved To WordPress CMS!
You are viewing our archived website, retired after six years and 15,000 published articles. There are still plenty of good reviews and helpful guides to be found here, which is why we're keeping this site online. If you'd like to stay up to date, visit the new site at http://techplayboy.com/
Back on March 2007 our website was published on the Joomla! (1.x) content management system. There have been many attempts to move the site into newer versions of the Joomla! CMS, but the platform often restricted our migration. It's been six years since we released our first review, and a new look was long overdue.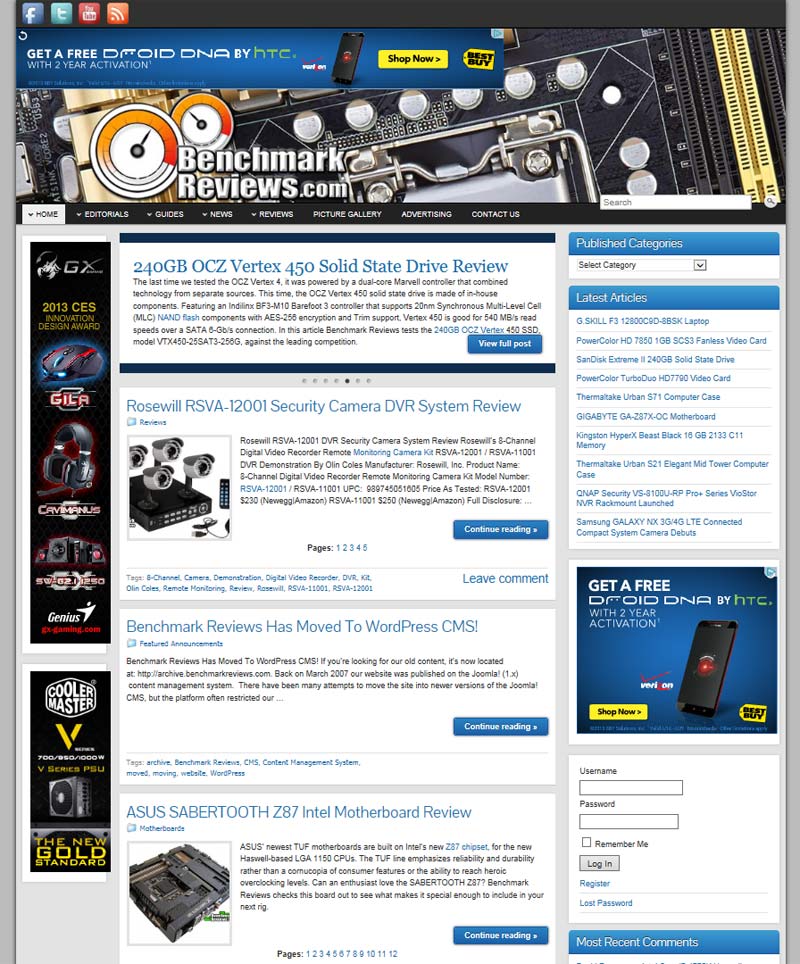 Featured Website News

As you can imagine, tablets were everywhere at CES 2012. They ranged in size from under 7" to over 10", from Andriod 2.1 to Ice Cream Sandwich to Windows 8. There was even an Android watch. But no matter how many tablets I saw, they were all pretty much cut from the same die; even the waterproof ones in the fishtanks. They were all built on SOC processors ranging anywhere from single- to quad-core designs from either Intel, NVIDIA, Qualcomm, Texas Instruments, Samsung or some other manufacturer. None of them had much potential in the world of x86 gaming. None of them except for one. Here at Benchmark Reviews, I'm pretty excited about Razer's Project Fiona.

Featured Website News

At CES 2012 there seems to be a common, overarching theme amongst many of the exhibitors; connecting all aspects of your life. There are thousands of new products on the show floor that try to make everything you do throughout your day connected through mobile devices, peripherals, and the internet. I've seen door locks that you unlock from your smartphone, blinds that can be shut from the other side of the country and, of course, plenty of SmartTVs. Belkin, a huge name already in networking, unveiled their own rebranding CES. They have a new logo and a whole line of new products aimed at connecting all the various parts of your busy life.

Featured Website News

The International CES is a typical place for companies to unveil new products to the world. Literally anything you can think of that is related in some fashion to the consumer electronics industry can be found at CES. One of the companies that has announced new designs at CES 2012 is In-Win, a computer chassis manufacturer that has been in the business since 1985. Follow us inside as we give you a run down of three new case designs that In-Win has unveiled at CES 2012.

Featured Website News

World of Tanks (WoT) is a free-to-play MMO-action video game loosely based on World War II-era tanks from the Soviet Union, Germany, USA, China, Britain, France, and Japan. Benchmark Reviews recently published our World of Tanks 3D Vision Game Review, and decided the upcoming holiday season would be a good time to introduce new players to WoT with an added bonus. For a limited time, Benchmark Reviews will give away promotional codes that give new players a 1-day premium account, 300 gold, and T2 Light Tank to your brand new garage.

Featured Website News

Looking for something fun to do this coming Memorial Day holiday? Benchmark Reviews is going to give away one free PC game every day this week leading up to the Memorial Day weekend. Get ready, because starting Sunday 05/22 we will start giving away free video games!

Featured Website News

MacWorld Expo, the annual gathering of the Apple faithful, has been a regular event since the first San Francisco show in January, 1985. As a Mac programmer, I attended that show, and every one since then up through the early 2000s. After I transitioned to Java and Web development, the computer I used became less important, and the 2003 show was the last I attended until this year. The 27th annual MacWorld Expo was dramatically different from what I remembered.

Featured Website News

World Ranked overclockers from North America and Latin America have assembled to compete using Intel's high-end X58 platform and NVIDIA GeForce GTX 580 GPU for a seat at the global final in Taipei, Taiwan. This MOA event was timed to coincide with the 2011 Consumer Electronics Show in Las Vegas, Nevada, the MSI Master Overclocking Arena was set to determine the finalists for the Americas region. Staged at the popular Pole Position Raceway near the Palms hotel, contestants were challenged to produce the best CPU and GPU performance results using identical hardware. The CPU portion of the event used Super-Pi performance results to determine the winner, while the graphics segment consisted of GPU benchmarks using 3dMark 2011.

Featured Website News

Steve Ballmer, CEO of Microsoft, has given the opening keynote address for CES for the last three years. Some have said that this year's address clearly shows that 2011 should be last year that Microsoft opens the show. The Microsoft CEO had a lot to say on Wednesday, January 5th as the world's largest consumer technology tradeshow was opened. A lot to say, that is, but not a lot to reveal. That might be a tough sell for audience members expecting news of grand new devices or, the bread and butter of this year's CES, a tablet. In this piece, one of Benchmark Review's editors shares his thoughts on Microsoft's CES 2011 keynote address.
<< Start
< Previous
1
2
3
4
Next >
End >>
Results 1 - 9 of 30