Benchmark Reviews Has Moved To WordPress CMS!
You are viewing our archived website, retired after six years and 15,000 published articles. There are still plenty of good reviews and helpful guides to be found here, which is why we're keeping this site online. If you'd like to stay up to date, visit the new site at: https://techplayboy.com
Back on March 2007 our website was published on the Joomla! (1.x) content management system. There have been many attempts to move the site into newer versions of the Joomla! CMS, but the platform often restricted our migration. It's been six years since we released our first review, and a new look was long overdue.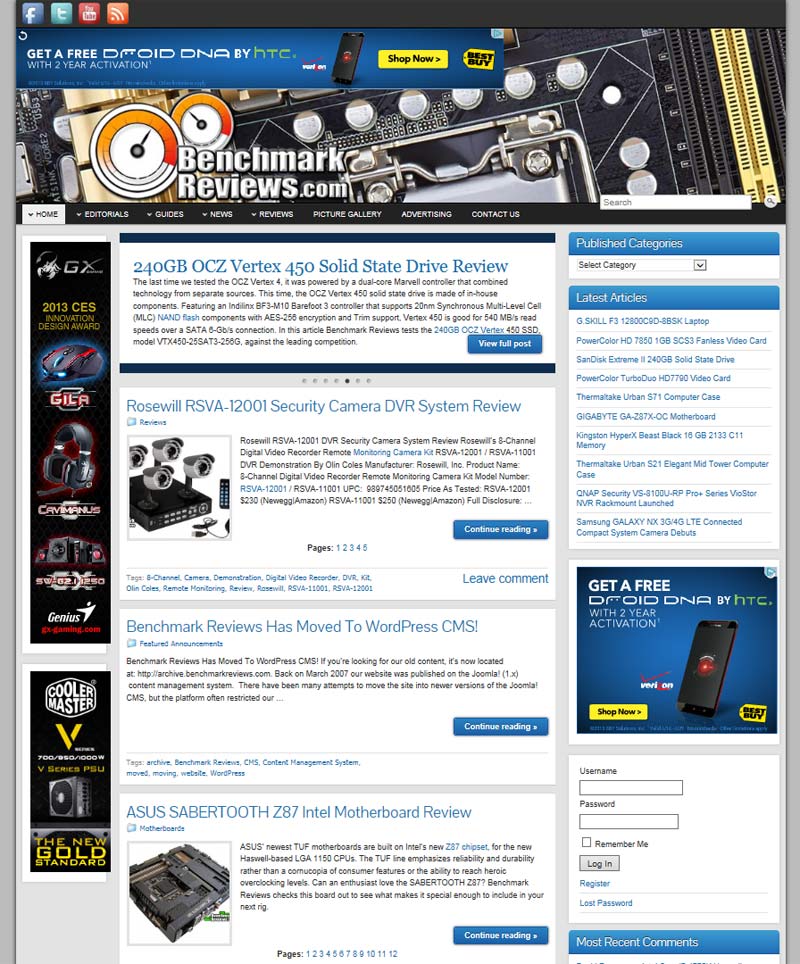 | | |
| --- | --- |
| Intel's new Haswell CPUs bring with them a new socket, LGA1150, and a new supporting chipset, the Z87. MSI's new Z87 MPower MAX motherboard is the first of third-party Intel Z87-Express desktop motherboard we've had the opportunity to test. As a member of MSI's "MPOWER" motherboards, the full-sized ATX motherboard is a high-end product stuffed with features aimed at enthusiasts and gamers. Let's take a look at it! | There's a new Ethernet in town called 10GbE, and its blazing fast. Benchmark Reviews recently gave you the inside scoop on the newest 10GbE networking hardware, and I mentioned that the first thing I did was to hook up a 10GbE NAS. Plain old Gigabit Ethernet has been holding back mid-range NAS servers for a while now. With 10GbE starting to enter the mainstream, QNAP is now making their 10GbE-capable storage products more affordable. The QNAP TS-870U-RP Turbo NAS is part of a new model line that trades off some CPU power and a couple of build features in order to lower the cost of entry. With eight 3.5" drive bays available there is a potential for 32TB of drive space, and the Intel Celeron CPU, with 32nm Sandy Bridge architecture, has enough horsepower to make file transfers fly by. It also has two x8 PCIe slots for 10GbE NICs and these make a huge difference in real-world performance. Take a closer look with us, at the current value leader in NAS speed demons. |
| It's new Intel CPU time, and with the switch to the LGA1150 socket comes a slew of new motherboards. Today we have an interesting item: the ASUS Z87 GRYPHON mATX motherboard. What makes the GRYPHON interesting is that it's the first micro-ATX member of ASUS' TUF family of motherboards. Let's see if this tiny motherboard can hold up the TUF banner. | NVIDIA's GeForce GTX TITAN allowed gamers to challenge any video game they choose with the highest quality settings possible, but in limited supply and high price tag. For many players, their games really only needed half as much power and memory from a video card. Enter NVIDIA GeForce GTX 780: built from GTX TITAN to deliver 3GB of GDDR5 video frame buffer memory, and 2304 CUDA cores from the GK110 GPU that reach 900 MHz using NVIDIA Boost 2.0 technology. In this article, Benchmark Reviews tests and compares the NVIDIA GeForce GTX 780 graphics card using several highly-demanding DX11 video games, such as Metro: Last Light, Batman: Arkham City, and Battlefield 3. |
| The streets are a dangerous place for motorists, and heavy traffic congestion adds as much risk to long trips as it does to short commutes. Defensive driving will help prevent some accidents, but the daily drive to and from work is wrought with random chance and uncertainty. It's not a question of if you'll be involved in an accident, it's a question of when. You can never know when someone might run a red light as you enter the intersection, or suffer a tire failure that sends them out of control. Insurance companies tend to penalize their drivers with blame, simply because they lack solid evidence to prove otherwise. Now you can capture that proof on video, for only $131 online. The Genius DVR-FHD590 high-definition 1080p vehicle recorder automatically powers on whenever someone is behind the wheel, and acts as a witness if the worst should happen. | After months of rumors and speculation, Intel's 4th generation Core CPUs, code-named Haswell, are here. Haswell CPUs are a "tock"-- that is, a new microarchitecture-- in Intel's "tick-tock" annual release cycle. Based on the same 22nm fabrication process and 3-D transistors introduced with last year's Ivy Bridge CPUs, Haswell brings with it a new socket 1150, which means that you can't just drop it in to replace an Ivy Bridge or Sandy Bridge CPU, since you'll need a new motherboard. But what new features and performance does Intel's Haswell processor bring with it? Let's find out. |
| So far, it seems that the early summer of 2013 is destined to be full of Intel Haswell coverage. Rather than consigning themselves to the shadows, AMD is quietly releasing two new members of their APU family. The next generation of APUs is being represented at the top by the A10-6800K and the A10-6700 Accelerated Processing Units, codenamed Richland. It has been about eight months since AMD released the last generation, Trinity APUs. When that happened, AMD took back the performance lead from Ivy Bridge in the sub-$150 CPU price range. This has been AMD's bread and butter for a while now, especially with their ability to pair discrete level graphics with their CPUs that totally decimate the onboard capabilities of their opponent. Haswell may change things, but for now, we'll see where AMD is setting the bar for entry-level performance. In this article, Benchmark Reviews takes a hard look at the third generation of AMD APUs with the top end AMD A10-6800K Richland Processor. | When Corsair introduced its Obsidian line in 2009 with the 800D it brought out a case that was beautiful, functional, and massive. In 2011 Corsair introduced the mid-tower Obsidian 650D it was still beautiful, functional, and just a bit too big for many enthusiasts. In 2013, Corsair introduced its first Micro-ATX case the 350D. The 350D keeps the beauty and functionality of its larger brethren but fits it into 17.7" x 17.3" case designed to contain a powerful multi-GPU system in a much smaller enclosure than many enthusiast have been accustomed to in the past. So let Benchmark Reviews walk you through the Corsair 350D and look at the new smaller case design. |
<< Start
< Previous
1
2
3
4
5
6
7
8
9
10
Next >
End >>
Results 1 - 9 of 1033